Tech-stuff Science · 24 February 2013 ·
I have already written about my love for BibTeX and BibDesk for referencing. One of the best things about it is that you can often fetch bibliographic information straight from the journal's websites, Google Scholar or other sources.
However, whilst this is great most of the time, there are many cases where journals are delivering broken BibTeX that BibDesk cannot parse, or that are just not well formed. What's following is a brief rant on journal's low quality BibTeX download and a few general observations.
...continue reading and comment
Webdesign Tech-stuff · 6 January 2013 ·
Modern technology allows users to consume content in a wide range of formats and styles. This is not just benefiting "normal" users, it also allows people to access content that previously were locked out, because analogue technology, like books or newspapers were difficult to get hold of in the right formats.
...continue reading and comment
Lens Reviews Tech-stuff · 28 December 2012 ·
The Auto Revuenon used to be my main work horse, replacing my plastik fantastik Miranda 50mm/f2, but is now succeeded by the mighty Sigma 50mm/f1.4. For most of the photography I do, a fast 50mm seems to be the most versatile focal length, shortly followed by the 21mm. However, often I find myself longing for something ever so slightly longer, closer to 55mm-70mm, the Pentax DA 70mm would certainly fill that gap.
To fill the gap of a fast prime, and since I felt the Miranda 50mm f2 wasn't quite cutting it, I acquired an Auto-Revuenon 50mm f1.4 manual focus lens on ebay.
...continue reading and comment
Tech-stuff · 12 April 2012 ·
In part I of this brief guide to academic referencing software, I introduced BibDesk and Mendeley as two examples of full-featured referencing software. In part II, I will briefly hint at different means of extracting bibliographical data from Google Scholar and journal websites, that can be used by BibDesk and other BibTex based software. Some of these hints also work with other reference managers. This article is more advanced than the previous one. You should be reasonably confident in your usage of BibDesk or Bibtex.
...continue reading and comment
Webdesign Tech-stuff · 19 March 2012 ·
Recently I had to develop a website that is using html5's new <video> element excessively. I had to convert at least 10 videos from the original mov to webm, theora, and x264. If this was audio, I would simply be using the extremely handy MAX Unfortunately, I did not find a similar programme for video files, whereas I created a short bash script that does the job.
...continue reading and comment
Tech-stuff · 30 November 2011 ·
When you're writing an academic article, one of the most annoying parts of the process is getting your references right. It's an annoying but necessary task, that requires a large chunk of time that would be better spent on getting the content right. However, with the help of a referencing software you can reduce this hassle significantly.
...continue reading and comment
Politics Tech-stuff · 9 October 2011 ·
The hacker group Chaos Computer Club (CCC) has reverse-engineered the German state trojan software that is being used to intercept suspects' online communication. You can read the full summary of their findings on their website. It is not my aim to reiterate the technical details of how the this remote forensic software works, rather I want to discuss some of the implications that arise from the use of evidence gathered through it.
...continue reading and comment
Media Tech-stuff · 4 November 2010 ·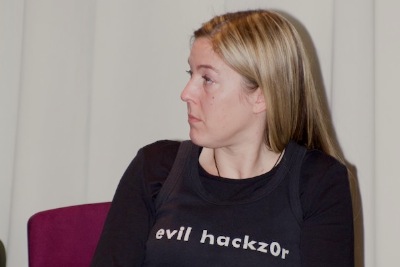 Constanze Kurz of the Chaos Computer Club, crop of a photo by re:publica10, cc-attr
In an interview with the German Weekly Freitag, Constanze Kurz, spokesperson of the Chaos Computer Club, develops the notion of "data veganism" in the Internet. People who stay out of all sorts of social networks and similar online services due to privacy concerns, are data vegans. People who stay away from the worst offenders are data vegetarians. Apart from the majority, who indulge in all sorts of social networking activity, there is also a fourth group, the conscious meat eaters, who use social networks like Facebook, but are very cautious about the sort of information they provide.
Furthermore, Ms Kurz argues that the agenda of digital vegans and vegetarians is ultimately to the benefit of all, since it will lead to more choice and higher awareness amongst the consumers of online services.
So what are you? Vegan? Vegetarian? Or are you going for the beef? And if so, are you at least making sure it's organic?
...continue reading and comment
Personal Tech-stuff · 20 June 2010 ·
Since my bike got stolen over Easter, I need a new one. I decided to go back to the Common Wheel Project, a Glasgow-based charity that employs people with mental illness to build and repair bikes. It's a brilliant project and they do a very good job at building bikes, too. Plus, they are a bit geeky.
...continue reading and comment
Tech-stuff Webdesign · 8 April 2010 ·
…when Richer sounds advertises a special offer for visually impaired people on its website's front page, but places that very information in an image with no alt-text, thus rendering it invisible for people who use screen readers or who use a different style sheet to make websites more legible.