Lens Reviews · 9 February 2013 ·
This is my main (because only) wide angle prime and I bought it primarily for my cycle tour to Copenhagen. There is little to fault this lens: It's sharp, photos are crisp, it's got a good resolution, natural colours, plus it's small and lightweight.
...continue reading and comment
Lens Reviews Tech-stuff · 28 December 2012 ·
The Auto Revuenon used to be my main work horse, replacing my plastik fantastik Miranda 50mm/f2, but is now succeeded by the mighty Sigma 50mm/f1.4. For most of the photography I do, a fast 50mm seems to be the most versatile focal length, shortly followed by the 21mm. However, often I find myself longing for something ever so slightly longer, closer to 55mm-70mm, the Pentax DA 70mm would certainly fill that gap.
To fill the gap of a fast prime, and since I felt the Miranda 50mm f2 wasn't quite cutting it, I acquired an Auto-Revuenon 50mm f1.4 manual focus lens on ebay.
...continue reading and comment
Lens Reviews · 4 June 2012 ·
A little while ago I saw a thread on pentaxforums.com asking members about their worst lens they still kept (and used). I think this would be it. Optically it's not an excellent performer, and doesn't even come close, to say my Sigma 50mm in the same focal length. Yet it's a fun lens to use, and I use it whenever I don't mind its performance, and want something light-weight to carry around, without having to worry about getting it damaged.
...continue reading and comment
Lens Reviews · 11 April 2012 ·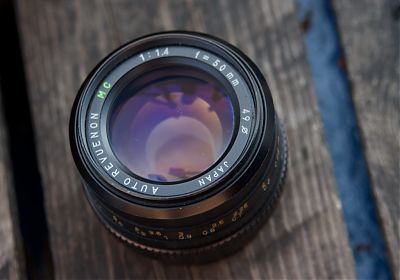 As if this site didn't have enough subject areas covered already: I've added a new section, called Lens Reviews that I will use to put up lens reviews (didn't the title give that away already?) of a number of lenses that I own, or have owned. It's not going to be a pixel peeper feast, beware: It's a brief summary of my subjective impressions after whatever amount of time I have used the lens for, a few sample pictures and RAW files for download.
...continue reading and comment
Lens Reviews · 24 March 2012 ·
For a 50mm, the Sigma is HUGE. That's the first impression I got when I saw it in real life, and (unfortunately) that's the impression I keep after repeated use. It is not so much a lens for candid photography, rather it is a great lens when you need to "impress" with a big camera.