Personal Media · 9 November 2011 ·
I'm what you would probably consider a news junkie. Everyday I spend around two-three hours reading the news, coming in through various channels: Blogs, Twitter, the websites of the Guardian, Spiegel, Die Zeit, Heise and so on. From political commentary, election results, campaigns, protests, climate change, copyright legislation, immigration, the NHS, etc.—I read it all. I would usually be up-to-date and well informed. This has got to change…
...continue reading and comment
Media Tech-stuff · 4 November 2010 ·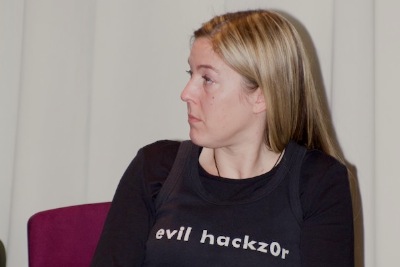 Constanze Kurz of the Chaos Computer Club, crop of a photo by re:publica10, cc-attr
In an interview with the German Weekly Freitag, Constanze Kurz, spokesperson of the Chaos Computer Club, develops the notion of "data veganism" in the Internet. People who stay out of all sorts of social networks and similar online services due to privacy concerns, are data vegans. People who stay away from the worst offenders are data vegetarians. Apart from the majority, who indulge in all sorts of social networking activity, there is also a fourth group, the conscious meat eaters, who use social networks like Facebook, but are very cautious about the sort of information they provide.
Furthermore, Ms Kurz argues that the agenda of digital vegans and vegetarians is ultimately to the benefit of all, since it will lead to more choice and higher awareness amongst the consumers of online services.
So what are you? Vegan? Vegetarian? Or are you going for the beef? And if so, are you at least making sure it's organic?
...continue reading and comment
Media · 8 July 2010 ·
A quick note on Murdoch's experiment of erecting a paywall for the Sunday Times. There is currently an introductory rebate on the online subscription for the Times to get the whole thing started. Thus, you can currently get access to the Times and Sunday Times website for £1 for 30 days, instead of paying £1 per day and £2 for one week's access.
...continue reading and comment
Politics Media · 27 March 2010 ·
Don't get me wrong, I wish him all the best. Maybe he can raise the quality of the Sunday Times a wee bit.
...continue reading and comment
Media · 29 December 2006 ·
...continue reading and comment
Media Tech-stuff · 14 November 2006 ·
If you ever thought DRM was good for customers, I have a bad news for you: Microsoft's brand new iPod-killer Zune will not play Songs that are restricted by Plays for sure DRM. At the same time, the MSN Music store will be shut and instead a new shop will open that only sells Zune compatible music files. BBC
...continue reading and comment
Tech-stuff Media · 14 September 2006 ·
Up to now, all Major labels have resisted to sell music that isn't copy protected by DRM In fact it was hard to get them selling their music online at all. DRM is a system that restricts the possibilities of what you, the consumer, can do with a file, e.g. an audio file. It is used by the music mafia industry to prevent people from file sharing music that is bought on the internet.