Personal · 1 October 2011 ·
For years and years I have been planning on going on a cycle trip from my home village in Brandenburg, up to Copenhagen in Denmark. Right past my parents' house runs the cycle track Berlin – Copenhagen, with a total of 630km. From Himmelpfort it's only a little over 500km to Denmark's capital. It's all flat, and makes a perfect beginner's tour. I had been to Denmark quite often when I was child and I was curious whether it would look different to me now, from an adult perspective. This year, finally, I decided to take the opportunity, grabbed my bike, and cycled to Copenhagen.
The bike
Initially I planned on buying a new touring bike (other than my trusty Sun, which is still in Scotland). Indeed I would have loved to have a proper Randonneuse like VSF Fahrradmanufaktur T-Randonneur or the Randonneur by Patria. But financial constraints made me abandon both options quickly, and upgrading my old Bianchi frame would have probably been almost as expensive. Thus, the Bianchi just got a minor overhaul to ensure that it would not fall apart on the way, and the two holes in the rear of the frame (nickname: "vampire bite") would not cause any troubles when the bike was fully loaded. Check: brakes ("sort of work"), pannier rack ("just attach it somehow—pray to FSM it will hold!"), adjust the old Shimano Positron gear derailleurs ("shifty!"), though the front derailleur refused to cooperate and I decided that 9 gears are enough. (Heck, my Sun in Scotland is three speed only—but rather three gears with a useful ratio than 18, of which most are useless), lights (work surprisingly well) and a fresh oiling.
The panniers, once packed accumulated to a good 20 kg of luggage and the tent plus the roll mat were probably another 4kg, so I was surprisingly within the limit of the pannier—I expected much more! Two rubber bands secured the tent and the roll mat. Surely not the most elegant solution but heck, we're not on a fashion show here! (more about the rubber bands later…)
Day 1 – Departing from Himmelpfort
I left Himmelpfort at around noon on Wednesday, and aimed to cross the Brandenburg-Mecklenburgian border on the same day. Thus, I passed Ravensbrück on my way to Fürstenberg, before leaving Brandenburg shortly after. Just before Wustrow I stayed on the cycle track which now went through dry, runny sand. With my thin 27" inch wheels this was to no avail, I turned for the main road, and then suddenly my eyes got hold of a few… parasol mushrooms!
Parasols are a safe bet, because there's not much you can confuse them with. Later in the evening I simply fried them with some olive oil, added a bit rice milk and water, and 2-3 pinches of vegetable stock (Salt and pepper would have been nice, too) and had them with a few slices of bread. (Pasta works fine as well) Most delicious!
I was also hoping to find some chantarelle mushrooms, but to spot these from the distance requires eyes beyond perfection. Also, the yellow birch leaves typically found en masse in most forests look like chantarelles from the distance. Yet the rate of birch leaves to mushrooms is probably a 1000:1, and whenever you thought you saw a chantarelle, it turned out to be a birch leaf, thus I could usually not be bothered to stop and check.
Other than that I hoped to spot a sparassis. This rare mushroom looks a bit like a brain, fallen out of the skull, or Spongebob Squarepants, just not so square. Despite its looks it is most delicious. It has a firm texture and a spicy taste and again, there are not many mushrooms it can be confused with. Unfortunately I was unlucky, and found none.
All in all I probably cycled a little short of 100km, when it was getting dark at around 10 pm and no campsite in sight. Just before it got properly dark I found a spot on a meadow, just behind some trees, where I set up my tent and had my mushrooms for dinner, together with the mosquitoes. The latter had me for dinner, despite me putting on an extra thick layer of insect repellent. But those blood thirsty bastards were starved out and would not be stopped by anything.
Day 2 – Rostock ahead!
I was just before Waren, and when I woke up in the morning quickly packed my tent to get there. From Waren onwards, my next stop was Güstrow, and it was here that I realised—heck, I might be able to make it to Rostock in one day! The weather was as good as it could possibly be, neither too hot nor too cold, and sunny the whole day. Until the late evening, just before Rostock: All of the sudden it started to pour down on me. I got soaked through, despite rain-proof clothes and trying to find shelter under a tree. After the rain I was cycling down a hill and heard a 'cling' noise, as if a piece of metal fell off. I stopped, checked the road and the bike, but could not find anything. Dear piece of metal, whether you belonged to me or not, you will be truly missed.
Rostock was close and I would not stop until I got there. 30km to Rostock! 20km! 10km! I found an apple tree with delicious august apples in a village before Rostock, and stocked up my fruit supplies. Onwards to Rostock! It was slowly getting late (and dark) when I reached Rostock and tried to find a place to sleep. But the cheapest option wast €80. Rather than throwing out the money I would set for Gedser—the last ferry was at 1.45am. After getting lost a few times in Rostock (heck, it's dark and I can't see the way!), I missed all earlier ones.
Tired, I reached the port. When I wanted to buy a ticket the lady at the desk asked me whether I'm here with my truck. Thinking of my luggage-ladden bike I was inclined to say yes, but since a single bike ticket was already €17 I figured a truck is probably more expensive.
Day 3 – From Gedser to Stubbekøbing
Once I arrived at Gedser at around 3am, I made my way to the free campsite near the coast. Tired and fed up, I pitched the tent and was ready for bed at around 4am. Instead of the 120km that I planned, I must have cycled about 150km and was knackered. What a day, sleep tonight! I slept till 11am, and left the campsite at around 1pm, after breakfast, refilling the water supplies, checking over the bike, keeping the wasps out of the tent, etc. What started off as a grey but ok day, quickly turned to rain and again I got soaked thoroughly on the way to Nykøbing/Falster.
Somewhere on the way I met a woman from Berlin and we cycled together to Stubbekøbing, where we met another German guy on a bike. We pondered over whether we should go on, or look for a place to stay. But the guy found an incredibly cheap three bed apartment, and the matter was settled.
Over pasta, parasol mushrooms and wine, it turned out that the man was a Lutheran pastor, the woman Jewish, and I, well Pastafarian, I suppose… In the conversation that followed, we touched upon what religion means to us, the way to lead one's life, the balance between children and the partner's career, and last but not least the fall of the wall, and its current importance. Interesting strands of argument developed: Thus, for the pastor the East/West divide was far more significant than for us other two, despite the woman being much closer to his age than mine. But those few years already made a difference, particularly since he refused military service in East Germany. The topic of religion was also unavoidable. Whilst it quite obviously played a big role for the pastor, and he was also interested in the Jewish religion, for the woman religion did not play a big part of her life. Despite this, she lived in Israel for a few years and sent her children to a Jewish school, to pass on the culture. In a similar fashion, the personal significance of Ravensbrück, the concentration camp we all passed on our journey, was perceived differently. Visiting the camp was a very significant experience for him, she however did not stop, partly due to the omnipresent history and the feelings it would evoke, but also because it was part of a past she herself did not experience; it seemed too long ago. Since I grew up just a few miles from the camp, it had a different significance for me: It was always there, and I would often pass it but only every few years I would go and actually visit it. Because of this it was a bit to the periphery of my mind, something I pondered on for a while after that evening. Another topic was the balance between career and children, a feminist issue you might say: She was telling us that she had to step back in her own career after her children were born, and that it was difficult to catch up with her boyfriend, who was now contributing the larger share of the income, despite her having had better prospects before their children were born.
Thus, this turned out to be the most social time I had on my journey to Copenhagen, for most of the other days I travelled by myself and would hardly talk to anyone.
Day 4 – Around Møn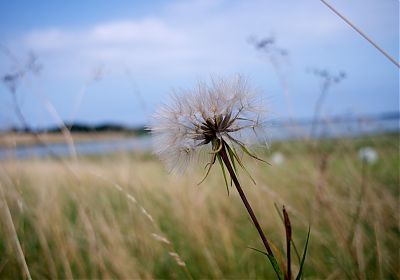 From Stubbekøbing the pastor and I took the ferry to Møn (gotta love the øs and ås!), where we parted. I had already been there as a child, and had fond memories of the place. Thus I took the 50 km detour around Møn, and stopped at Møns Klint, the chalk cliff. To get there, you first have to cycle uphill for 1/3rd of the way, park your bike and climb down to the pebble beach. There is a sign, saying it takes 15 minutes to climb down, and it does take 15 minutes, despite the fact that you're only a dozen metres away from the sea.
I thought I'd make it to Præstø but I quickly abandoned that plan when rain clouds gathered over me and it was already getting late. Wanting to avoid a disaster like earlier in Rostock, I decided to call it a day, and made my way to the free camp site in Stege. There, I pitched the tent, made dinner, said hi to the cows that were staying next to me, and shortly after thunderstorm and lightning came over me. I, in the tent, had a safe and dry night, spending most of it reading Three men on the Bummel by Jerome K. Jerome: A book about three Gentlemen from Great Britain, going on a cycle tour in the 19th century Schwarzwald.
Day 5 – Stevns Klint
The morning started off with a nasty breeze blowing right into my face. Even downhill felt as like uphill, and to make things worse I had to cycle on the busy road from Møn to Kalvehave. It felt as if I wasn't making much progress at all. But with the weather improving, my mood lightened up, too. Later during the day I was pretty cheerful indeed. I passed a few cherry trees, stopped at a few more, and kept on cycling for another 70km. I had just stocked up my food and water supplies at the supermarket at around 6pm, when rain clouds gathered and seemed to chase after me. This quickly turned into a race between me and the clouds, with me reaching the last free campsite before Copenhagen before the rain. The tent was quickly pitched and I found myself at Stevns Klint, one of the best free campsites I had been: There wasn't just fresh water supply, but a wheelchair friendly toilet, plenty of benches, and even a observation platform to appreciate the view!
The campsite at Stevns Klint used to be a military base for controlling the airspace during the cold war, and a cold war museum is close by. Initially, after looking at the map, I thought I would have the opportunity to go for a swim in the Baltic Sea, but I quickly disbanded the idea: Such a swim would have involved me jumping off the 20m cliff, and I intended to reach Copenhagen in one piece the next day…
Day 6 – Copenhagen, at last!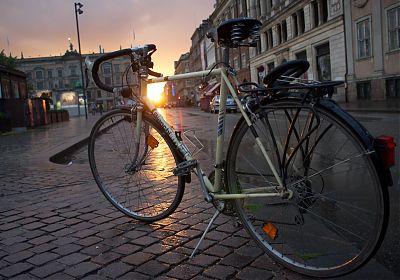 80 kilometres to Copenhagen! No biggie, and thus I started at 9.30 to allow me enough time to get to the tourist information and get a hostel for two nights. Just on the last twenty kilometres I met the pastor again, and together we made our way to Denmark's capital. But first we went for a coffee, and rainclouds gathered over us—another 50kms to go!
When we finally reached Copenhagen it was pouring over us and we quickly made it to the hotel where my fellow traveller was supposed to stay. Soaked (again!), but excited to have made it, I found out that all hostels were booked, and my only rescue was Couchsurfing, where I found a kind soul hosting me for the two nights in Copenhagen.
Day 7 and Departure
I did not make any plans for my stay there, and I am not a very touristy person. They say that the journey is its own reward, and the main purpose of my trip was getting there; once I arrived I did not quite know what to do and took the opportunity of just cycling through Copenhagen. I went through a few alternative streets, visited a few art shops, went briefly to Christiana (but since there was no photography allowed, didn't stay too long) and generally tried to get a feeling for the city.
One of the things I sensed pretty quickly was that this is a bike city: All main roads had two-way cycle tracks, and you would find yourself in a crop of a dozen cyclists, most of them rushing past you because they knew the way.
Unfortunately I had to be back home soon. On the next morning, I took the train to Nykøbbing. From there I cycled to Gedser (there are no direct trains from Nykøbbing to Gedser) and set over to Rostock, where I took the RE5 regional train going via Berlin. This is by far the cheapest option to get to Berlin. The alternative would be to take the Eurocity via Hamburg, but other than being more expensive it's not much quicker either. On the way home from Fürstenberg, I stopped over in the forest—and finally found some chantarelles!
Things I took with me:
2 waterproof panniers by Vaude
1 two man tent (to store my luggage as well)
1 gas cooker
1 saucepan
Spoon, fork, knife, plastic cup, tupper box
socks, underwear
cycling shorts (sexy! but making long tours more comfortable)
cycling shirts (no cotton, synthetics or wool dry much faster)
a rain jacket (unfortunately not sufficiently waterproof)
rain trousers (make sure the material is breathable)
toilet paper
a small shovel
bread, sliced
3 cans of mixed vegs, 1 can of green beans: great for soups and stir fries
dried tofu, excellent for stir fries and won't go off!
a few apples
vegetable stock
Things I wish I took with me
Salt and pepper
more plastic bags to separate my luggage. It's ideal if you neatly group all your belongings in plastic bags, so that you, for example keep all cooking utensils together, all rain clothes and all tools: If it starts to rain, you just pull out the appropriate bag with all the clothes and put them on. Everything is in one place and you don't need to unpack the entire pannier to find what you need.
a proper, 100% waterproof rain jacket.
Cuisine Cycliste
When travelling and camping, it's good to have a few simple recipes that rely on few ingredients and that you can easily be recombine, to achieve a bit of variation.
Cous cous or polenta
Pasta is nice too, but takes longer to cook
tomato puree can be used to produce flavoursome soups, as a simple bread spread or to add the taste of tomato to other meals.
Salt and pepper for basic flavouring
vegetable stock will do the rest
onions + garlic as a base
A few spoonfuls of flour can be used to thicken up stocks and soups
dried tofu is a great ingredient to add crunchiness to the dish, and it won't go off
Polenta-Stew
Polenta
(Rice) Milk
Canned Tomatoes/vegetables
Dried tofu
vegetable stock
Salt + Pepper
Fry a chopped onion in olive oil, quickly followed by the tofu. Add the canned vegetables once the onions are soft. Heat up, until they boil and add the vegetable stock, salt and pepper. Add a bit of milk, and again, heat up until it boils. Then add the polenta, so that it roughly takes up a third of the liquid content and leave to simmer for one minute. Turn off the heat, wait five minutes, stirring occasionally and serve whilst hot.
Couscous salad
Canned vegetables
1 onion (coarsely chopped)
Water
olive oil
Dried Soya
Vegetable Stock
Pretty much the same procedure, just with water instead of milk, a bit more vegetable stock and the couscous replaces the polenta.
Simple Tomato Soup (sauce)
onions (finely chopped)
garlic (finely chopped)
1/2 tube tomato puree
flour
olive oil
basil, oregano (if available, otherwise vegetable stock)
water
Salt + Pepper
Gently fry the onion in olive oil, add the garlic. Once soft, add two table spoons of flour and stir well. Immediately add the tomato puree, followed by water. Season according to taste and availability. Depending on how much water you add, you either get a liquid soup or a thick tomato sauce that works well with pasta. If you add dried tofu with the onions, you well get a chewy bits, too! Now, if that doesn't sound delicious, I don't know!